The much-admired author Fay Weldon sadly died last week. Here writer and long-time fan Belle Tindall, reflects on her remarkable life and boundary-busting writing.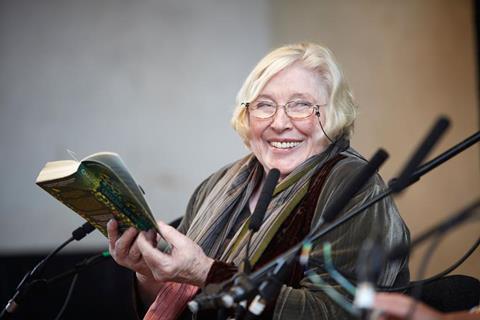 The genius writer and ultimate feisty feminist, Fay Weldon, died on January 4, at the pretty wonderous age of 91. And, I must say, the world already feels like a slightly less interesting place to be.
Born in New Zealand but raised primarily in England, Fay was a world-renowned author. Penning 31 rather eccentric novels (many of which have become infamous in popular culture) including Puffball, The Life and Loves of a She-Devil and The Bulgari Connection. She also gifted the world with a number of play scripts, TV screenplays, and articles. She was a true master of her craft, that much is obvious. But there's even more to unpack about her, more to be thankful for, more to be remembered.
The female characters of late 20th century literature were often written in varying shades of grey, but Fay Weldon ensured any women present in her work were to be seen in glorious technicolour. Her books were built on women who were strong, women who were loud, women who were smart, women who were stubborn, women who were admirable, women who were flawed. Ultimately, the talented writer specialised in gifting the literary world with women who were dimensional. And for that, I'm very thankful.
Fay Weldon ensured any women present in her work were to be seen in glorious technicolour.
It's probably not too much of a stretch to suggest that it was these multi-dimensional and multi-layered female characters that made Faye's work so popular with women who were disillusioned with the idea that all they should aspire to is beauty, and the apparent rewards of such. The depth and breadth of Fay's success implies to me that she was writing up characters that the world didn't even know they were craving. We can love her work, we can hate her work, but surely we have to admire her work. We have to stop and take notice of her rebellious nature, her feisty persona and her steadfastly playful writing. We have to see it, ultimately, as a lifelong love-letter to complex women.
Since the news of her death, there have been many words thrown around to describe the enigma that was Fay Weldon; defiant, undoubtedly. Un-apologetic, absolutely. Mischievous, definitely. Eccentric, utterly. Christian, really? Fay Weldon's faith was something I was totally unaware of, but now that I know it existed, it makes perfect sense. This lover of stories found herself drawn to the most compelling and radical story of all time. In an interview she did with Premier Magazine almost ten years ago, she said: "Partly, I think, I wanted to belong." Perhaps, many decades of writing stories fuelled a craving within her to simply inhabit one.
Faye's work was popular with women who were disillusioned with the idea that all they should aspire to is beauty.
Whatever it was that ultimately drew her to Christianity, Fay got baptised at the age of 69 and, albeit in her characteristically complex and controversial manner, made sure that her faith was weaved into every aspect of her life. I'm not about to over-spiritualise a body of work that most definitely should not be used as some kind of library of female role-models, or a collection of ethical manuals. But, I what I am saying is that I'm thankful for Fay Weldon. Thankful that in her work, women can see themselves. Thankful that courtesy of her feisty persona, women were being fought for. Thankful that through her faith, she was introduced to the most empowering and emboldening story of all.

Belle Tindall is a writer, speaker, researcher and university lecturer in Theology. In the final stages of her PhD, Belle specialises in Jesus' radical inclusion and empowerment of women in the Gospels and beyond. She's also on the launch team of a brand new Vineyard church plant in west Wales and is passionate about communicating the Bible in fresh and creative ways.
View full Profile