Between December 22 and January 1 is the most popular window for a proposal. As Christians, we know that - for those who are called to it - marriage is an exciting milestone, here are some things to look out for if you think an engagement could be imminent.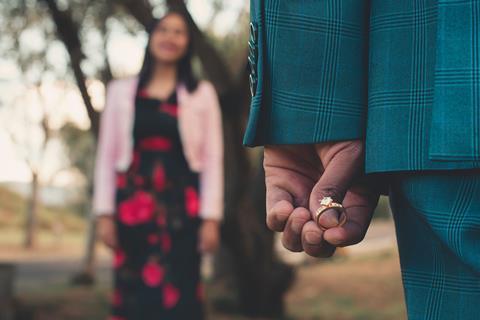 My first job was as part of the events team for a group of restaurants. As you can imagine – Christmas was a wildly busy time. We collected pre-orders for festive lunches and booked out rooms for boozy work dos. You would think that the first week of January would be the perfect time to rest and regroup after a hectic season but no. Straight after Christmas and New Year was when we got most of our wedding enquiries. Turns out, people love to propose with a backdrop of festive lights and evergreen firs.
For those who have been called to it, marriage is an important part of Christian family life so a proposal is incredibly exciting. If you and your partner have been together a while and marriage is on the horizon, you may be wondering if he's about to pop the question. Dating app Fitafy's relationships expert, Charlene Douglas, and relationship psychologist Mairead Molloy have shared what they believe are the tell-tale signs of a proposal.
Your jewellery box has been reorganised
If you find your jewellery box out of place, or if your partner or best friend begins to become inquisitive about the size of your finger or your style preference, you can bet that your partner is having a snoop around your current collection and is thinking about taking things to the next step.
Your partner is talking about future commitments
Mairead said: "It really depends on circumstances, but a good rule of thumb is that you'd want to address the big questions when you have a good sense that things are getting more serious for both of you. Being honest and forthright with one another is essential for a healthy and growing relationship; discuss money, sex, and family expectations. If your partner is putting everything on the table and getting to know the nitty-gritty of what you want and expect, you and your partner will have a better idea of where you are in your relationship, as the important thing is that you and your partner are on the same page about your future together."
The pre-marriage course is a brilliant tool to help you work out where you are the same and where you differ.
You notice a general shift in their attitude
Let's be honest, proposing to someone can be a nerve-racking moment in anyone's life because it has the potential to change everything forever, so it's natural to feel that way. If your partner exhibits a general shift in attitude, such as speaking words of affirmation far more frequently or showing signs of nervousness, such as turning red, this could be all part of gathering the courage to ensure everything is perfect for such an anticipated moment.
"A classic tell-tale sign that your partner is about to propose is if they appear more distracted than usual. You know them best, so I'd say trust your instincts when it comes to detecting differences in their behaviour!" Charlene expressed.
It's close to a special day that you and your loved one cherish
Whether it's Christmas, Valentine's Day, or any key anniversaries that are significant to you and your loved one, if one of these dates is approaching and your partner has left the day as a surprise treat, you may want to start heading to the nail salon as your partner might be looking to make that day more of a reason to celebrate with a proposal.
Charlene said: "It is a sign that you have thought about it clearly and carefully and timed it so that it coincides with a date that is important to you as partners. It is also a nice idea to propose on a key date because it keeps your anniversaries consistent! That way you won't be unsure of when to celebrate throughout the year."
Your partner has cut down on spending habits
As we all well know, weddings are not cheap, and if you and your partner are usually the types to go out, shop, and explore, but have recently expressed a desire to spend more time together indoors and have become more frugal when it comes to everyday indulgences, they could be saving up for something big.
Ultimately, it's important not to push or force anything but just enjoy your relationship for the stage you're in now. A proposal is always exciting but it's important to pray and trust in God's timing.

Lauren Windle is a journalist, author and presenter who focuses on faith, recovery and love. Her debut non-fiction book Notes On Love: Being Single and Dating in a Marriage Obsessed Church (SPCK) is out now.
View full Profile