A new report from Home for Good highlights the benefits of support lodgings as a way for young people to receive support within a family environment. Lucy Colman explains how individuals and local churches can provide a vital safety net for teenagers in the care system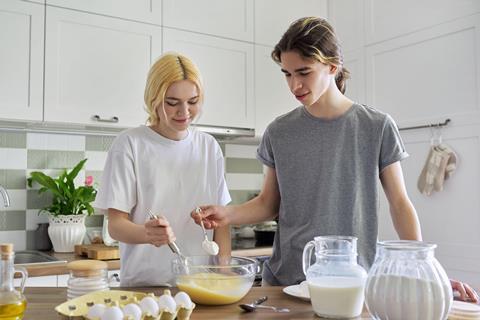 Every 15 minutes in the UK, a child enters the care system. A huge number of these children, and many of those who have been in the care system for years, are teenagers. In fact, the number of children entering the care system aged 16 and over increased by 39% between 2010 and 2020, and teenagers in care are 80 per cent more likely to have experienced two or more changes of home within a year. These figures represent thousands of teenagers who need safe places to live.
Adulting well
Last week, we published a new report, Brimming with Potential, which outlines the transformative impact of supported lodgings – where young people aged 16 and over are offered a room in the home of a host family or individual. This gives younger people greater independence than foster care, while the host has less parental responsibility. The host provides emotional and practical support, helping the young person develop practical skills for adulthood, such as cooking and budgeting.
In the words of one care-experienced adult we spoke to: "I came from a family who didn't budget or do normal living. I had no idea how to pay my rent…Living in a house wasn't the answer. I needed all-round support from adults who did adulting really well and not really badly."
A vital safety net
Our report found that this provision is hugely underutilised across the country, despite the fact that it can be a brilliant way to help teenagers in care feel a sense of belonging and receive the relational support we all need to flourish. Relationships are at the very heart of who we are, and strong, healthy relationships can be a rarity for teenagers in the care system. That's why we're working with government, local authorities and supported lodgings providers to help more people step forward to open their homes – and hearts – to a teenager who needs a place to feel safe.
Another young adult who had been in supported lodgings said: "You get independence, but you're underneath their roof. You respect their rules, and you get support and have a bit of a safety net."
Ready-made church communities
At Home for Good, we believe the local Church has a profound part to play when it comes to caring for vulnerable children and teenagers. These ready-made communities in cities, towns and villages all over the UK are perfectly placed to welcome and include young people. Our polling on supported lodgings (commissioned through Savanta ComRes) showed that 25 per cent of the general population would be interested in getting involved. Amazingly, that figure jumped to almost 50 per cent among regular churchgoers!
Find out more
We know that there are many in church communities whose hearts break for children in care, but who may not be ready or able to foster or adopt. With this in mind, we'll be launching support and signposting in spring 2022 for anyone who wants to open their home to vulnerable young people. Read the Brimming with Potential report and hear some amazing stories about the profound impact supported lodgings can have.

Lucy Colman is director of influencing at Home for Good, a charity dedicated to finding a home for every child who needs one.
View full Profile