Colleen Haynes Sheehy married a man with a disability, against her family's advice. Sadly he passed away, but she went on to marry another man with the same disease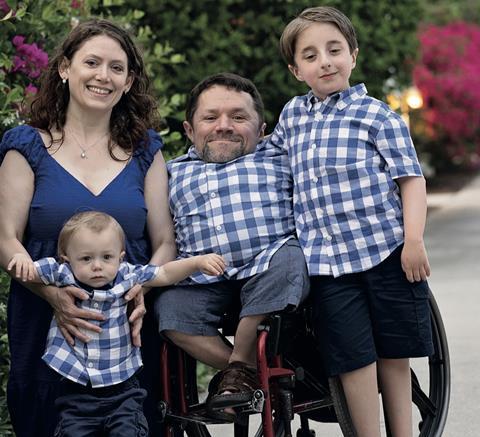 Words by Jeanette McCarthy
For most people, when they think about being married to someone with a disability, only the limitations in the relationship come to mind. I never imagined I would marry two men with Osteogenesis Imperfecta (OI), but, each time, it was the best decision I ever made.
I met Brandon when I was 27, at a young adult's group in church. He was a year older than I was and had a great sense of humour. He was also very open about his condition.
OI is an inherited (genetic) bone disorder that is present at birth. It is also known as brittle bone disease. I truly didn't see Brandon as someone who had a disability; to me, he was just a great guy. So, when he asked me out, I said: "Yes." We dated for a year before getting married in January 2010. I was 29 and he was 30.
I could not have imagined God had someone wonderful like Brandon in store for me. I'd spent two and a half years with Youth With A Mission (YWAM) working with Muslims in the West Bank. By the time I returned home to Florida, I was broke, burnt out and I had no idea what direction my life would take. From the age of nine, I believed God had called me to be a missionary and I'd spent most of my late teens and 20s pursuing that call. Arriving home made me feel like a failure. Meeting Brandon a year later was like the start of a new chapter in life.
The joys and heartbreaks
Brandon was everything I could want in a husband – caring, supportive and easy-going. At first, my parents and siblings (I'm the oldest of four) didn't approve. They were concerned about what quality of life we would have together.My perspective was that all marriages have an element of risk and our relationship was worth it. Over time my family really grew to love Brandon.
Brandon had been well for a long time, so neither of us were prepared for how our lives were about to suddenly change. Shortly after we were married, Brandon started experiencing problems with his joints and ligaments; both his knees and his shoulder needed to be replaced. We then found out we were expecting a boy but he too would have OI. It made for a bittersweet moment. Christopher was born in June 2012, but because he had broken bones while in the womb, he was kept in the Neonatal Intensive Care Unit (NICU) for two months before being allowed home.
As time went on, Brandon continued to have health problems. He fractured a femur and developed three consecutive infections. Then, in 2014, he unexpectedly passed away at home. Christopher was only two and a half years old. I was devastated.
My mum moved in with us as I was struggling to sleep, even though I felt completely exhausted. I faced some dark times and felt very alone but, somehow, I knew God was still with me. It has been seven and a half years since Brandon died, but I will never stop missing him or loving him. A pastor's wife once told me that you never stop grieving but you continue to grow around your grief. I have found this to be true.
Finding love again
In 2016, a friend from my OI Facebook group told me about an OI conference in Orlando, Florida. Mum, Christopher and I managed to attend via a scholarship. There were seminars in the day and in the evening there was a choice of a 'parent meet and greet' or 'happy hour'. Mum stayed in the hotel with Christopher while I decided to try out happy hour. As I walked in, I saw a sea of wheelchairs and thought: "Oh no, I shouldn't be here!"
I encourage people to see the person and not the disability
One of the guys in a wheelchair saw how nervous I was and came to talk with me. His name was Steve and he instantly put me at ease. Only two weeks before I had taken my wedding band and put it on a necklace around my neck. He would never have spoken to me if he thought I were married. When I got back home, we connected on Facebook and began messaging each other for a couple of months.
We dated long distance for a year. He would fly down from Detroit, Michigan where he lived, to visit Christopher and me in Florida, and we would travel to see him. Steve began to pray about whether we should get married and felt God was confirming it. He surprised me by proposing at the same restaurant where we had first met. We got married in February 2018.
I've never viewed our family's challenges as harder than anyone else's; they are just different
Mum liked Steve instantly but my dad was concerned about me marrying another man with OI and being widowed again. Steve's OI is more severe than Brandon's. I told my dad: "I don't want to be widowed either, but part of loving someone is knowing that you will eventually lose them. It's just usually at the back of people's minds rather than the forefront." To me, Steve is like anyone else. He is funny and kind and I couldn't imagine life without him.
In August 2020 Steve and I had our son Adam. He does not have OI. I've never viewed our family's challenges as harder than anyone else's; they are just different, and God gives us grace to handle them. Christopher is doing very well now. He is ten years old with a very big personality. He is friendly, confident and funny. He is his father's son. I am blessed to have two mothers-in-law as Brandon's mother is still a part of our lives too. They both have raised sons with OI so they understand the challenges. Brandon's sister Lindsay has also been a great support as well as Steve's two older sisters Nicole and Denise.
We both ensure prayer is central to our family. Steve is a devout Catholic and I was raised evangelical. Of course, there have been times when I've felt overwhelmed have questioned God, asking: "When will things get better?" But when we turn to the Lord, he gives us strength to grow in the midst of our struggles. A scripture that has kept me is Jeremiah 29:11: "'For I know the plans I have for you,' declares the Lord, 'plans to prosper you and not to harm you, plans to give you hope and a future.'" Hope has been a big thing for me. No matter what we've been through I've never lost hope.
I hope my story encourages any single disabled person desiring marriage. Keep praying and asking God what he has for you. Sometimes God has something better in store than what we think we want. Also, if you see a disabled person, I encourage people to see the person and not the disability. Get to know them, if you can. My world became so much richer when I developed a friendship with Steve, and now I'm married to my best friend.