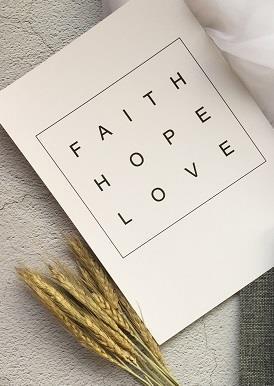 A stencil on my wall reads: "HOPE makes all things work and FAITH makes all things possible." It is a constant reminder to me that there is only one way to turn my helplessness into hopefulness – by fixing my eyes on the Lord, breathing him in and inviting him to walk this new day with me.
As we focus our thoughts on the year ahead of us, we may feel joy or tribulation about new opportunities, possibilities and challenges ahead. A new year means we have 365 days to be more Christ-like in what we do, who we are and who we will become. As 1 John 3:2-3 says: "Dear friends, now we are children of God, and what we will be has not yet been made known. But we know that when Christ appears, we shall be like him, for we shall see him as he is. All who have this hope in him purify themselves, just as he is pure."
Dear Lord, our Father, as this new day and new year dawns, let us fix our hearts and eyes firmly on Jesus. We fall to our knees and praise you for the sacrifice Jesus made so that we can experience new beginnings each day. Thank you that when we invite you into every thought and action we find we have a new purpose for living.
Let us hold on to your dependable love as we manoeuvre through any obstacles ahead. Let us tighten our grip on your strong hands as we walk along this new path of life. Only with faith and your grace are we able to turn our helplessness into hopefulness and for that we are truly thankful. For you never give up on us, you never tire of us or turn your back on us.
Let our hearts fill with joy in the knowledge that our magnificent King is walking alongside us into each new day. May we never feel alone when we are surrounded by such hope and love. Amen