Susanna MacInnes got to the semi-finals of the 2023 Sky Arts Landscape Artist of the Year. She spoke to Jemimah Wright about her creative journey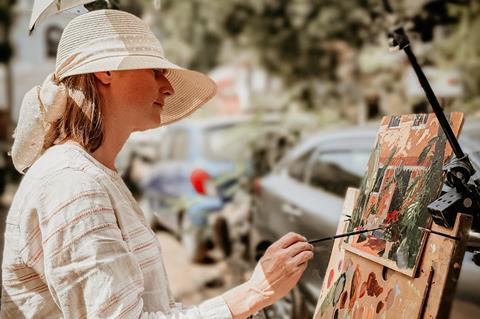 Tell us a bit of your background and faith – when did Jesus become real to you? I'm so hugely grateful to my mum for leading by example with her fearless attitude to life and faith in Jesus. As a child I would see her explaining her faith and sharing her joy with anyone who was interested. She would frequently listen to and pray for people and it was always very exciting to see how lives were changed.
I was nine years old when I first made steps to believe that Jesus was real but it was aged eleven while at boarding school that my faith was really challenged and tested, giving me an important grounding in experiencing real joy in prayer and trusting in him.
Did you always want to be a painter? We were really encouraged as children to be creative. We all had sketch books and watercolours and were even allowed to paint on our bedroom walls! This freedom to express ourselves and respond in paint to the world around us was really important. My parents would take us to visit other artists and creators and quietly say to us afterwards: "You could do that." It was so encouraging and open minded of them.
We all had sketch books and watercolours and were even allowed to paint on our bedroom walls
What was your journey to becoming a professional painter? I was given a lot of independence from an early age and was encouraged to make my own decisions and choices. At school I excelled in art up to A-level and I should have applied for art school straight away. Instead I chose to take a degree in business studies and languages. It was obvious during my first year that I had made the wrong decision and I was on my knees praying to swap courses to fine art. Amazingly I got a place at the art school in Manchester.
You are now a mum of four, so how do you balance finding space for creativity and parenting? I met my husband at one of my exhibitions in 1999. Throughout our marriage he has been keen to support my career as an artist and particularly while having our children. My in-laws and parents have helped us a lot along the way as well as a long list of au pairs. The key has really been in good planning and organisation – as well as the children understanding why mummy needs to go painting.
How does your painting connect you with your faith? I feel truly alive when I paint. It puts me firmly 'in the moment' and helps me to live in the present, giving an awareness of the world around me. I choose to paint mostly outside and in front of the subject, which gives me a wonderful first-hand experience to respond to the light and life around me. Inevitably I meet lots of people when I'm out painting and I really enjoy the conversations and opportunities that offers.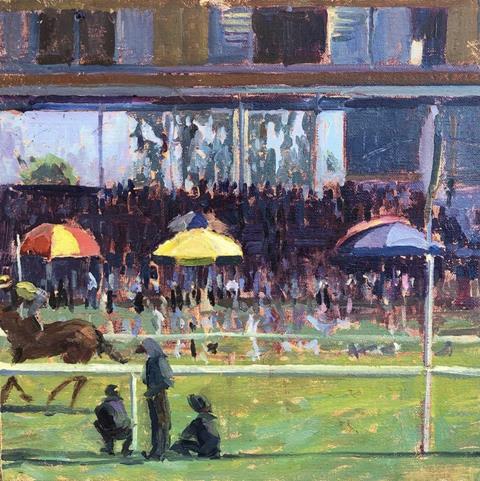 Do you pray when you paint? Prayer is a really important aspect to creativity. If there are challenges in life going on in the background, I find that by taking those concerns to God in prayer, I can then fully focus on the painting. I also pray for inspiration and for guidance on what to paint. When I'm actually painting and all is well, I find myself praying for my friends and family.
Tell us about Landscape Artist of the Year (LAOTY) and how your got connected to it –and your impressive result! LAOTY is a series produced for Sky Arts. Each episode in the series is filmed at a different location. There are six heats, a semi-final and a final. The winning artist receives £10,000 and is given an important commission to paint on behalf of Sky Arts. This year is their eighth series. I was delighted to be the winning artist in my heat, which was aired on 18 January 2023. I got through to the semi-final, aired on 28 February, but sadly I didn't make it to the final.
Last year a couple came to my exhibition and invited me to go and stay with them in Goa to paint
I entered previously, in 2020, and had a really good experience. On that occasion I didn't get through to the semi-finals but I was encouraged by friends on Instagram and my family to try again. I was particularly interested in submitting a piece that I painted from the view looking out of my son's bedroom window during lockdown. It got a lot of interest on Instagram so I thought I would submit it to see if it caught the eyes of the judges too.
The subject material really struck a chord and I absolutely loved painting the rooftops and houses from above. It earned me a place in this latest series, where we had to dress up and paint at Royal Ascot racecourse. The grandstand proved to be a really complex subject and I was relieved to spot a view through to the other side of the grandstand, providing an interesting composition including not only a horse but the grooms, racecourse, colourful umbrellas and crowds. It provided me with a vibrant snapshot of the day.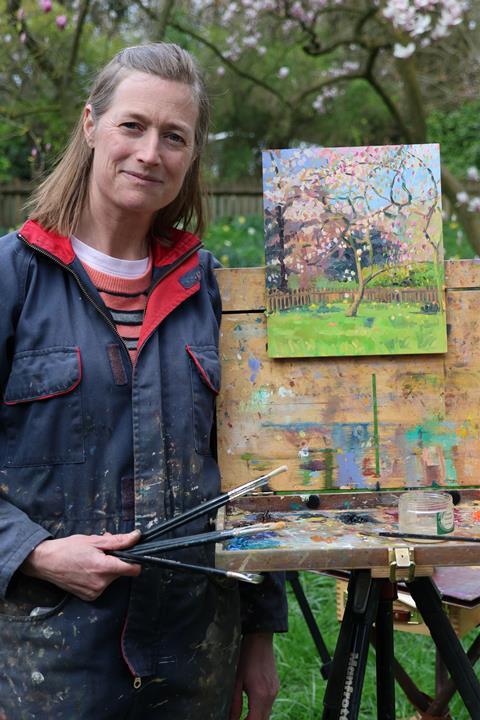 What was it like to paint on TV – did you feel the pressure? I absolutely loved it! I couldn't wait to see if I could capture the day. It was hugely exciting to win my heat and get through to the semi-final.
What is your dream for the future of your painting career? Painting is certainly a passion and with it comes an excitement to share the fun and enjoyment with others. I set short-term goals for exhibitions and leave the 'bigger picture' open for opportunities to come my way. Last year a couple came to my exhibition and invited me to go and stay with them in Goa to paint. This was a dream come true and a wonderful opportunity. This October, together with 'Travel Matters' (a travel agency), I will be co-hosting a painting retreat by Loch Tay, Scotland. I am really looking forward to sharing my skills in capturing light and inspiring others on their creative journey with painting.