Christian Aid's Ramani Leathard reflects on the complex nature of the situation in Afghanistan, and urges us to stand with the poor and vulnerable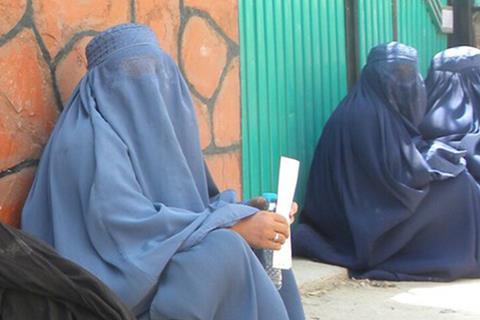 As an Asian woman who, for the large part of her life, has enjoyed equity and justice, I have felt its absence most keenly when visiting Afghanistan. With the recent takeover by the Taliban authorities, many fear that the huge gains made in terms of women's rights to education, employment and participation in key decision-making over the past 20 years will be eroded. "Is Afghanistan going back in time?" people wonder. Yes, Afghan women have had constitutional equality, but they suffer daily inequality.
Catastrophic developments
Waking up to the news that Kabul had fallen a few weeks ago was devastating. I have worked in the humanitarian sphere for more than 30 years, so have witnessed the journey that many women have taken in order to assert their rights. Twenty years ago, post 9/11, a new era was supposed to begin in which women would be given long-awaited opportunities to make their voices heard.
Afghanistan is now in the midst of a complex humanitarian catastrophe. The country has endured massive political upheaval. Even before the Taliban swept to power, the country was suffering climate-change-induced drought, with over a third of the population trapped in food insecurity. In addition, Afghans have had to face the COVID pandemic with scant access to healthcare and a very weak health infrastructure.
Today the economy is decimated, with soaring inflation, a heavy reliance on imports and a cash crisis whereby banks restrict all withdrawals to a maximum of $200 a week. More than half a million people have been displaced this year, adding to the internally displaced population of 2.9 million. The majority of these are women and children, and the numbers are steadily increasing.
"Hundreds of thousands of Afghans are trying to flee the country," says my female colleague from Kabul. "Two of my relatives were among the people who turned up at the airport with the relevant documents but were not allowed entrance. People are feeling helpless because all borders have been seized and controlled by the Taliban. We are suffering from the uncertainty and fear of losing our loved ones."
A life of dignity, respect and peace
Yet last week women in Kabul, Herat and Maza-e-Sharif were protesting, putting themselves at risk in the face of armed Islamic Emirate of Afghanistan (IEA) personnel. My colleague comments: "This is a positive sign of women's bravery and the women's movement making their voices heard. These women are calling for their rights and freedom to participate rather than be given symbolic roles."
The position of women and girls in Afghanistan is still very fragile. Less than 25 per cent of women are literate, and the country has one of the highest maternal mortality rates in the world. CAID Afghanistan is committed to staying in the country and delivering its humanitarian programmes to ensure that governance is responsive to the rights and needs of its poor communities.
"We don't know what is in store for women in Afghanistan, especially those who have worked for the advancement of women's rights," my colleague says. "Last month school exams were to take place, but most families are not allowing their girl children to attend school for fear of their safety. We can only hope the situation gets better and we can go back to a normal life with dignity, respect and peace."
We must continue to stand in solidarity with these poor and vulnerable communities, especially girls and women, as they take control of their lives with regard to justice and female empowerment. I believe our key contribution at this point is that, together with our local partner organisations in Afghanistan, we can provide hope and make a difference. It is my belief that hope breeds life.
Ramani Leathard is head of Asia at Christian Aid and has more than 30 years' experience in long-term development and humanitarian spheres. She is a communicant member of the Church of England and currently serves as chair of the board of the British and Irish Agencies Afghanistan Group (BAAG).
View full Profile