Tearfund's challenge, The Great Fashion Fast, asks people to wear just 10 main items of clothing for the whole of March… but could you do it?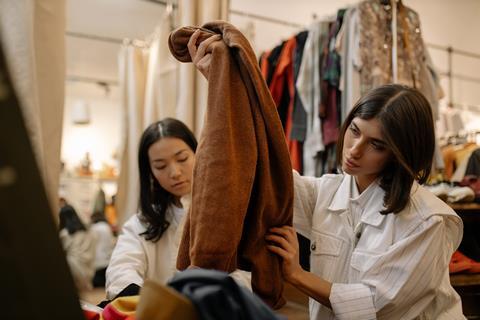 Fewer than one in four UK adults said that concern for the environment was the main reason why they would buy fewer clothes. And the majority of us (57%) own new clothes we have never worn, according to a survey from international development charity Tearfund.
The survey, which was conducted by Savanta ComRes, also shows the carbon footprint of new clothing was the top consideration for only 4% of clothes purchasers and the same proportion (4%) ranked ethical concerns about how clothing is made as their top priority.
The results reveal there's plenty of room for adults in the UK to pull their (hopefully ethically prodcued) socks up with regard to their wardrobes, to help reduce the fashion industry's contribution to the climate crisis.
The majority of us own new clothes we have never worn.
Most people said saving money (54%) and getting the most value out of existing clothes (43%) were the main reasons they would abstain from new purchases. Only 11% said a preference for 'pre-loved' clothing kept them from entering the fast fashion cycle. Emotional attachment to clothes, however, motivates many people to get more use out of them: 76% of 18-34 year olds would hold onto and re-wear items for sentimental reasons, although only 58% of over 55s feel the same about their wardrobe.
Tearfund ambassador and actor David Gyasi is taking part in the charity's "Great Fashion Fast" challenge, to highlight the link between the fashion industry and the climate crisis. In March he will join hundreds of others being sponsored to sport only ten main items of clothing for the whole month. This isn't designed to be a spiritual fast, but rather a statement of support for ethical fashion. But fasting is an opportunity to strip the comforts that we rely on away and focus on God instead. So if you heavily rely on your image and style and feel it's become an idol, this could be a great opportunity to hand that part of your life to God as well as reducing the environmental impact of your clothes.
In March hundreds of people are being sponsored to sport only ten main items of clothing for the whole month.
Dr Ruth Valerio, Tearfund's director of Global Advocacy and Influencing said: "Our throwaway attitude to clothes means we have helped make the fashion industry's carbon footprint higher than that of shipping and aviation combined. This is contributing to the climate crisis, but we can all reduce our carbon footprints by making more considered purchases and loving what we've already got for longer.
For more information about the project, visit the Great Fashion Fast challenge website.

Lauren Windle is a journalist, author and presenter who focuses on faith, recovery and love. Her debut non-fiction book Notes On Love: Being Single and Dating in a Marriage Obsessed Church (SPCK) is out now.
View full Profile