Netflix's star-studded film Don't Look Up paints a grim picture of the human response to end times. But, despite the chaos, writer Lauren Windle was moved when the political satire included a touching tribute to God.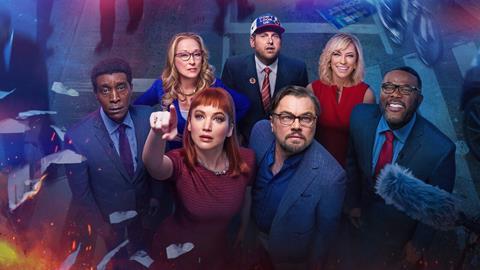 Please note: this article contains spoilers!
I try not to think too much about the end of the world. Despite the Christian promise of plenty of good things on the other side of the end times it is still an anxiety-inducing unknown. So I stick to focusing on the present and leave the future firmly in God's hands.
But watching Netflix's new star-studded film Don't Look Up, a sattirical apocalypse tale, made me think about the human reaction to death and our response when we percieve there 'aren't any consequences'. The movie paints a bleak picture in the face of potential extinction, with many people opting for hedonism. One character asks if he should be partying or praying. Except he used far stronger language than 'partying'. There are depictions of characters getting drunk, getting high and indulging in casual sex in order to make the most of their last moments. It's a grim Sodom and Gomorrah-esq ending.
But in contrast, there is another group of people, all connected somehow; some related, some colleagues, some friends. The motley crew sit around a table together and share a final meal. They hold hands and tell stories. They laugh but most poignantly for me - they prayed. Despite the characters not being particularly religious, and the film as a whole being a political commentary, the moment before those characters thought they were going to die, they held hands and spoke to God.
I've heard of plenty of people before turning to God when they really believe they're in their last moments even if they never would have in life. But I also know there are people who would take the opportunity to indulge in guilty pleasures and to satisfy short-term cravings because they believe the long-term no longer exists.
When I first got sober I remember clearly thinking: 'If I knew I was going to die, I would get so drunk. There would be no consequences, so why not?' But that person didn't understand who Jesus was and what life after this one could be like. I thought in the absence of consequences it would be the perfect time to once again indulge in alcohol. But now, at almost eight years sober and more importantly eight years Christian, I can't think of anything worse. I want to die how I lived in my happiest moments; surrounded by my family, completely sober and, like the characters on the show, connected to God.
In the film it's Leonardo DiCaprio's character who suggests they say 'amen' before eating, but Timothée Chalamet jumps in to offer a prayer. Here's what he said:
'Dearest Father, almighty Creator. We ask for your grace tonight, despite our pride. Your forgiveness, despite our doubt. Most of all Lord we ask for your love to soothe us through these dark times. May we face whatever is to come in your divine will with courage and open hearts of acceptance. Amen.'

Lauren Windle is a journalist, author and presenter who focuses on faith, recovery and love. Her debut non-fiction book Notes On Love: Being Single and Dating in a Marriage Obsessed Church (SPCK) is out now.
View full Profile