THE CONCEPT of 'Fake Christmas' may sound a little sacrilegious, but Rachel Pearce found there was a lot more to it than mince pies and mulled wine.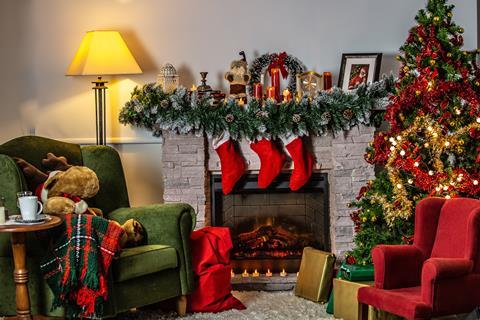 One Friday night in November 2016, a group of girls gathered at a friend's house to celebrate the most wonderful time of the year (or at least the second-most wonderful): Fake Christmas. The evening kicked off with mince pies and mulled wine. We watched Elf in our Christmas jumpers and decorated the tree. Then we hung up our stockings, left a little treat for Father Christmas and headed to bed early.
So here it is, merry Christmas, everybody's having fun
Like overexcited children, we were all up at the crack of dawn to get the turkey in the oven. Bublé was bellowing, hot chocolate was bubbling, and best of all – Santa had been! We resisted the temptation to open presents, and instead set about peeling potatoes and sprouts to a backdrop of the Pogues, Slade and Mariah.
After an epic Christmas dinner we settled down to watch Home Alone and make paper decorations. At one point I fell into a Chocolate Orange-induced coma, scissors in hand. Then we opened our presents before busting out the board games with a side serving of cheese and crackers. There may even have been port and After Eights – I was too focused on answering a single Trivial Pursuit question correctly to take much notice.
Sunday was Fake Boxing Day, of course, so it was time to get the family round. We were joined by boyfriends, cousins and our host's hilarious Bing Crosby-loving mother. There followed a Boxing Day brunch, more presents, a winter walk (during which it genuinely started snowing and we encountered a pair of touring Christmas reindeer) and finally an epic SingStar karaoke session. After all, the best way to spread Christmas cheer is singing loud for all to hear.
Look to the future now
The idea behind Fake Christmas was to add some additional joy to November and allow a group of friends who spend Christmas Day apart to experience the festivities together. I know what you're thinking, though. Did we really celebrate everything about Christmas except the birth of Jesus? Yep. And you know what? I didn't even go to church on Fake Boxing Day. I probably appeared on every naughty list ever written.
But actually, the weekend gave me more opportunity to share my faith than I ever had before with this group of friends. Two of the core crew were atheists, while among the Boxing Day joiners there was a former Christian, a practising Hindu and a nominal Muslim. Although I'd known most of them for years – and they all knew I was a Christian – faith had never been a major focus of our hangout sessions before.
This weekend was different. They asked me what I really thought about the virgin birth. If Jesus pooped like other babies. If there was a Christmas tree in the Bible. Why we celebrate Jesus' birth on 25 December. What he did with his gift of gold. Why we don't see angels nowadays. And why any of it actually matters.
I couldn't answer all their questions then, and I still can't. Isn't faith a wonderful, ever-blossoming thing? But I loved the openness of our discussions, where nothing was too stupid or taboo to be brought to the table. Everyone was interested in hearing about this baby king, born in Bethlehem, who had changed my life completely…and continues to do so.
It's only just begun…
Fake Christmas was such a success that we subsequently decided to celebrate Fake Easter, which I hoped would open up more soul-searching discussions. But once we'd watched Hop, taken part in a half-hearted Easter egg hunt and performed terribly in Trivial Pursuit once again, we were all Fake Eastered out.
Fake Christmas, on the other hand, became a sparklingly lovely annual tradition, with faith always featuring in some surprising way. So if you're worried about celebrating the less biblical aspects of the festive season, don't panic. There's no such thing as a Christless Christmas unless you purposefully decide there is no room at the inn.
Rachel Pearce is a lover of Jesus, Christmas and Fake Christmas (but not Fake Easter).