Five-time world record holder Stef Reid says her Christian faith has made life more of an adventure. She is excited about competing in Tokyo, in what will be her fourth Paralympic Games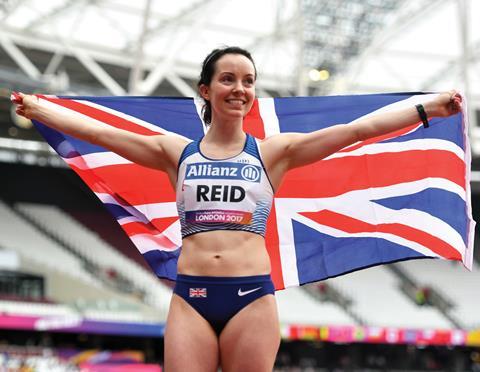 Stef Reid MBE has always lived and breathed sport, but her dream of becoming a professional rugby player came to an abrupt end at the age of 15 when she was involved in a serious accident. Caught up in the propellers of a boat while on holiday in Canada, she suffered severe lacerations to her back and her foot had to be amputated.
Regular role models
But although her life was changed forever, hearing from others in a similar situation helped her get back on track: "I was so lucky that within two months I was visited by other amputees who didn't know me, yet took the time to come and visit me, and let me see that life carries on and that I was going to be OK. I am so grateful to them.
"In the same way, my sporting career developed because of people who took the time to invest in me. Veteran athletes and coaches who taught me and challenged me and took a genuine interest. Role models are so important because they change your perception of what is possible. The ones that change your life are not the ones you watch on TV, but those you observe on a regular basis."
Finding the right balance
It took time for Stef to get used to being an amputee and subsequently to wearing a prosthetic. She started using running blades while studying biochemistry at Queen's University in Canada, where she trained with the university team. Three years later she was competing at the World Championships. She won her first Paralympic bronze medal in Beijing, with silver medals following in London and Rio.
"Tokyo will be my fourth Games," she says, "and it's been a build-up like never before. No one could have predicted the past 18 months. Life and training have looked very different and I think I have also changed as a result. It's been a great reminder to me of how little is actually under my control and the extent to which I started to think I was in charge!
"Competing at the Paralympics on a global stage is incredibly exciting. It's an experience not many get to have. In order to compete well, you have to walk a very fine line of recognising the enormity of the moment while maintaining a sense of carefree fun. It's so hard to get right, no matter how many times you've done it."
Doing life differently
Despite being a successful athlete, actor, model and broadcaster, it is Stef's relationship with God that inspires and challenges her the most: "My faith is what gives everything context and meaning. I've spent enough time with myself to know I'm not that great, and I'm full of traits and thoughts I would rather not have.
"My faith and Jesus' example on how to do life differently gives me another option for choosing my attitude and behaviour. God's word gives me a standard outside what I am feeling in the moment. It has also made life so much more adventurous. And fun! God kills me sometimes with his humour, his irony and his graciousness, which goes way beyond what I deserve."
Follow Stef's progress at the Tokyo Paralympics (24 August to 5 September 2021) or on Twitter and Instagram.