Elaine Storkey unpacks the story of the two sisters, and shows us that the traditional interpretation doesn't give us the full picture
Those of us who have sisters are often aware that, no matter how close we are or how much we care for each other, we don't always see eye to eye. The reasons for that may be temperamental, or related to responsibilities.
Perhaps it's because we don't share the same priorities, or sometimes it's just the difference in age. My sister is ten years younger than me and much of our experience together reflects that. I still remember how, at the age of eleven, I took her for her first walk once she had begun to toddle!
Although I love her to bits, and always have done, the difference in our ages means our outlook is not always the same. But we can learn from one another.
I think the stories in the gospels of Mary and Martha reflect very similar sisterly differences. In Luke's account of their relationship, we see differences both in age and temperament. They come out especially in Luke 10, in the way they responded to the visit of Jesus and his disciples.
Martha, the older sister, was the responsible one who tended to get things done. She rushed around like a whirlwind, trying to organise loving hospitality for their dear friends, while Mary let her get on with it. Mary sat quietly with the men, listening intently to what Jesus said.
If she noticed her sister's stress and fatigue it certainly didn't motivate her to do much about it. So Martha carried on with the domestic work until she lost her cool. Then, rather than argue with her sister, she turned to Jesus and asked him to urge Mary to get up and help her.
I wonder what she felt when her pleas didn't achieve her desired result and Jesus refused to call Mary into line. She must have been very taken aback to be told that Mary had chosen the better role.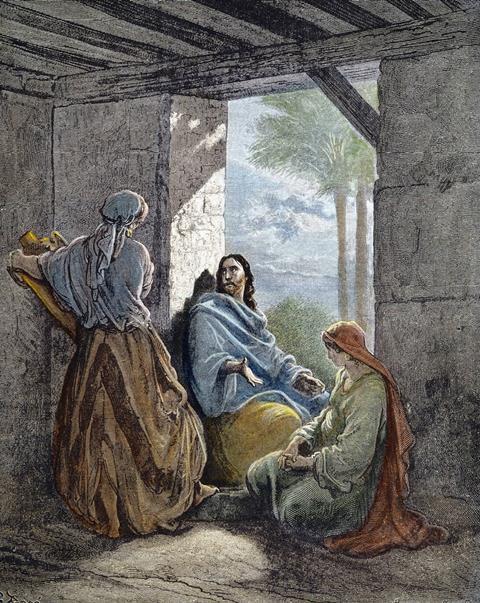 Jesus in the House of Martha and Mary
Interpreting Jesus' response
Why did Jesus rebuke Martha and side with Mary? I have heard many sermons on this incident in Luke's Gospel and very often they polarise the sisters. Mary is presented as contemplative and quiet, whereas Martha is performance-orientated.
Mary is described as more spiritual while Martha is focused on worldly concerns. The implication is we should all be like Mary, prepared to step out of our normal everyday routines and be ready to listen and learn, rather than like Martha, caught up in mundane domesticity.
I have some sympathy, of course, towards this interpretation. Jesus often challenged people out of their traditional roles to a greater awareness of what it means to serve God properly. He challenged certain forms of Sabbath keeping, because they were legalistic and finicky and got in the way of real worship before God. He sometimes bypassed Jewish protocols to concentrate on relating to people.
In Luke's account of Jesus' visit to their home, Martha stayed in role as the traditional Jewish woman getting the meal ready for the men, while Mary did not. Mary went beyond the normal expectations of a woman, and Jesus seemed to affirm her for doing so.
Yet this interpretation offers a lopsided profile of Martha, and downplays the commitment she had to serving Jesus. Giving hospitality is important, and food lovingly prepared is a very welcome gift for hungry people.
Care and concern for others should never be polarised against spirituality. In fact, when we meet Martha again in John 11, we see the depth of her spiritual awareness. Their brother has just died but Martha knew that if Jesus had arrived earlier, Lazarus could have been healed.
Even though this hadn't happened, Martha still trusted Jesus. She knew God's power was in him and believed he could work miracles. Martha was the one who confessed: "I believe that you are the Messiah, the Son of God, who is to come into the world" (John 11:27). This seems a very different Martha from the one so often interpreted as caught up in unspiritual, domestic activism.
So we need to look again at the Luke story. In fact, there is a more subtle dimension to it, which doesn't come out in every translation. In the New International Version and the J.B.
Phillips translation of the Bible, for example, we notice a few extra words in Luke 10:42, which are not in the King James' version. And these additional words throw quite a different light on how we interpret what Jesus was saying.
In Luke's account of Jesus' visit, we have just been told that Mary had settled down close to Jesus' feet and was listening intently to what he was teaching. The J.B. Phillips translation then says: "But Martha was very worried about her elaborate preparations and she burst in, saying, 'Lord, don't you mind that my sister has left me to do everything by myself? Tell her to get up and help me!' But the Lord answered her, 'Martha, my dear, you are worried and bothered about providing so many things. Only a few things are really needed, perhaps only one'" (vv40-42).
Early Christian writers like Cyril of Alexandria didn't see this remark as Jesus rebuking Martha for her assumed lack of spirituality. Nor did they think he was driving a wedge between the sisters. They believed that Jesus was more bothered that Martha was wearing herself out, quite unnecessarily.
He was actually talking about the meal! The phrase "only a few things are really needed" suggests Jesus wanted a simple meal rather than something that demanded exhausting preparations. He was actually trying to wean Martha off her over-the-top hospitality.
Effectively he was saying something like: "Come on, Martha dear. We haven't come for a banquet with half a dozen courses. Only a few things are necessary, perhaps even just one. So a bowl of soup and some bread will be quite sufficient!"
This is not a story about work against faith, worldly affairs against spiritual meditation or independence against submission. Nor is about sisterly competitiveness. It is about excess. Jesus was asking Martha not to take on more than she needed to.
She was rebuked, not because she was choosing to provide hospitality rather than hear Jesus' teaching, but because the hospitality she was providing was way beyond what was needed. Jesus was saying she should keep it simple, then she'd have less stress and anxiety and be able to sit down and join Mary, rather than telling her off.
What can we learn from the story today?
I hope we will learn what Mary learned, that sitting at the feet of Jesus to hear God's word is a very good place to be. But we can learn a lot also from Martha, and what Jesus taught her.
We should follow him in simplicity and faith; there is no need to place unnecessary burdens on ourselves and others. Jesus is the one who lifts our burdens, rather than weighing us down. "Come to me, all you who are weary and burdened, and I will give you rest…for I am gentle and humble in heart, and you will find rest for your souls. For my yoke is easy and my burden is light" (Matthew 11:28-30).
How often do we punish ourselves by taking on more than we can cope with, and then feel resentful and irritable towards others rather than glad to serve? Even worse, how often does our need to be in control, to do things our way, leave us with spoiled relationships because others don't want to be pushed into doing what we want?
Martha's motivation was to bless her guests with a wonderful meal. But she went over the top and ended up neglecting the very relationships she was trying to enhance – those with her sister, Jesus and his friends.
If we're finding that serving God has become a burden, we might want to look again at the things we have taken on and perhaps the complexities we have landed ourselves in.
Sometimes our anxiety is linked to being simply overwhelmed with the responsibilities we face because of the choices we make. It is good for all of us to hear what Jesus said to Martha: "only a few things are necessary, perhaps only one" and then ask God afresh to show us what these things are in our own lives.

Elaine Storkey is known for her lecturing, writing and broadcasting. Her book Women in a Patriarchal World (SPCK 2020) was based on Woman Alive articles. Her most recent book is Meeting God in Matthew (SPCK)
View full Profile