Cassandra Nelson from Premier Gospel caught up with actress and comedian Yvonne Orji about her new book, dating while celibate and the rise to fame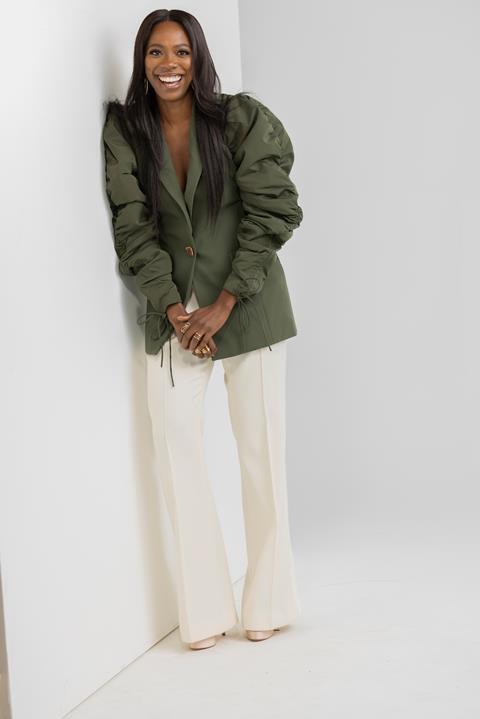 Nigerian-American Yvonne Orji is an actress and comedian best known for her role as Molly in Issa Rae's highly acclaimed TV show Insecure. Yvonne has received nominations for a Primetime Emmy Award and three NAACP Image Awards. She also founded the podcast Jesus and Jollof with fellow Nigerian Luvvie Ajayi Jones. If you don't know her by now, you soon will!
Cass: We are here to talk about your book. The title really intrigued me: Bamboozled by Jesus: How God Tricked Me into the Life of My Dreams. How did that come about?
Yvonne: I feel I was bamboozled into writing the book. Really, I was too busy to write it but felt God remind me that he gave me the things that were making me busy, but was calling me to write this book too. It was like he was saying: "Don't let the blessings that I have poured out onto you stop you from continuing to be obedient."
Cass: I love that you start right at the beginning and so we get to see the progression. It's like we're on the journey as well.
Yvonne: That's why I wrote the book. I felt like I needed something like this on my own journey. It would have been so helpful to have seen somebody who has faith but also has dreams like mine.
Cass: I read that you said you are now living the life of your dreams, which is amazing! What's the most showbiz, memorable thing that you've experienced?
Yvonne: I think things like being able to take my whole family to Dubai for my mom's birthday. Once I couldn't send Mother's Day cards because I was so poor and now we're all flying to Dubai. Also, Kelly Rowland invited me to her and Beyoncé's Halloween party one year, and I'm like, am I really dancing next to Beyoncé and Jay-Z? What is this life? I went to the White House right before the Obamas left and Barack Obama said he loved the show (Insecure). It's those moments where you pinch yourself and just say: "Wow, look at God."
Cass: In Insecure, you play the part of Molly, who is a really positive role model for young black women in particular. Why do you think Molly's character resonated with so many people, and do you see any similarities with yourself?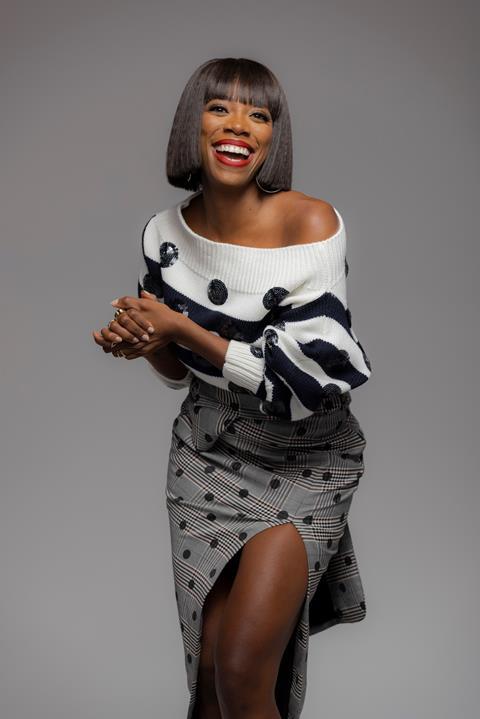 Yvonne: Any time you stick close to reality, you get the humanity, you get the nuance people can see themselves in. I credit the writers because they poured their stories into all of the characters. And so that's why people say: "Oh, I feel like Molly." None of our characters are caricatures; they're real people.
Cass: Let's talk about the title, Insecure. Everyone has insecurities. How do you work through yours?
Yvonne: I think it's important to just be OK with not being good at something. Rather than focusing on the thing I'm insecure about, or not good at, I remind myself of the stuff I am good at. We've all been there. I'm a comedian and sometimes before I get on stage I think: is this going to be funny? What if I forget my joke? But Michael Jordan did not make every shot he took, but enough did go in, and that's what people remem ber. You have to give yourself grace.
Cass: You share a lot about your personal life, both in the book and on your social media. Was that intentional?
Yvonne: So many celebrities shy away from talking about life before they were famous. They don't want to talk about when they were poor. I hate that because when you ask how they made it they'll say well you know we started from the bottom but they won't talk about the journey and the process. I'm not ashamed of my story. If you love the me you see now, you have to also know where I came from. I used to be a people pleaser, so for a long time I only wanted to show the good parts because I didn't want to be judged for the bad parts. I was bullied and judged for having my life. But no one is perfect – at some point you're going to do something wrong or be por trayed negatively but that doesn't make you any less worthy.
Cass: One thing that you've been really vulnerable with is your celibacy journey. How do you navigate the celibacy journey when you are dating?
Yvonne: It's not the first thing I mention. I don't say: "Oh the dinner was great but you're not going to get anything tonight." I feel like that's disrespectful, because I can't make assumptions about what the other person might want from the date. I've talked to guy friends who say they haven't had sex in six months because they're really trying to stay focused. You'd be surprised at how many guys are actually on their own journey in their own way.
We're not bargaining our hearts and our lives and our bodies just for somebody to like us
I meet a lot of women who say they want to wait but that the guy they like, won't. And I tell them look, we're not bargaining our hearts and our lives and our bodies just for somebody to like us. I tell people all the time that, whether you have sex or not, you have to make a choice you're comfortable with.
It's not like everybody who has had sex ended up in amazing relationships. On the flip side, it's not like everybody who has waited has had amazing marriages, right? So, it's more than just the sex.
Cass: Back to the title of the book. People aren't always so bold to say Jesus in a public space – were you set on that? And did anyone try to steer you away from having Jesus in the title?
Yvonne: Absolutely. To both questions. That was the title that was given to me (from God) and I had different publishers ask me what I thought about a title change. I said: "The title is the title!" It's so specific and that's on purpose.
I think people in the Church were focused on the bamboozle part. They were like: "Jesus doesn't bamboozle people, he doesn't trick people, he's a loving God." But I realised they are just so focused on religion and not really in relationship with God because look, God has a sense of humour: he gave me this title!
Whether you are new to faith or have been to church all your life, I want to take the weight of religion off and just focus on the relationship with God. So, readers can say: "This is what this looked like for her, and this is how she clung to it. OK, cool. Does that apply to me in my life?"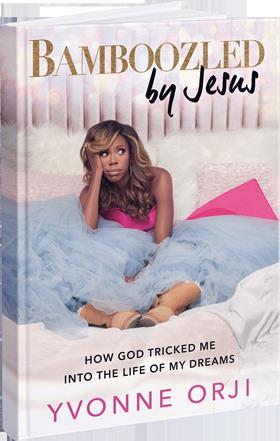 Bamboozled by Jesus: How God Tricked Me into the Life of My Dreams (Hodder) by Yvonne Orji is out now.