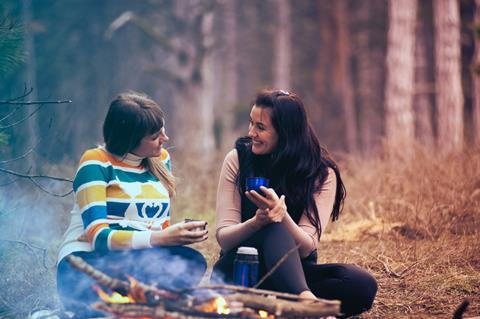 To be a follower of Christ is, in my opinion at least, a blessing I never take for granted. My first decade as a believer was full of joy, there were the occasional ups and downs, but it wasn't until I was handed a terminal diagnosis that I got 'real' about my faith.
In the first few weeks after my diagnosis, the removal of my independence meant no longer being able to drive and writing a will for when I'm no longer here took up so much head space that there wasn't room for sadness. But once the shock dissipated, I grieved the future I'd presumed I'd have time to live, in gradual heart-breaking moments.
I grieved for that I would not see my godchildren grow up. I grieved for the planned trips I'd no longer be able to take and the weddings I wouldn't be here to attend. All these plans have now been erased.
The turning point was when I attended a Bible Study (the last event before Lockdown forced everything online). I'd been unsure about attending; I wasn't in the right mood and like so many of us, when we most need to lean into Christ, we forget to. What I learned at that meeting was the reminder I needed that my identity was not this illness but was through Christ.
'Jesus confronted but he never condemns,' one woman had said, talking about how women can sometimes forget to live in the freedom of Christ's love because we are too busy feeding ourselves negative messages: I'm not enough. God loves everyone else but why would he love me?
It was through some quiet prayers in that room that changed how I saw my diagnosis and made me more determined to use my time well. I determined to build a lasting legacy and create an impact, even if only a small one.
Somehow everything became more urgent. I no longer put things off because the option of tomorrow was no longer a guarantee. And although the 'planner' in me took some time to adjust, my diagnosis cemented my faith as I drew closer into a relationship with God.
My family is on a spectrum of acceptance from those who refuse to accept that there are no treatment options available, to those who fear that they too might inherit my genetic illness. It was passed along my father's side and I am the only member of the family known to have inherited the gene responsible.
However, in many ways my Bucket List moved our conversation in a more positive direction as it offered a framework to discuss my limited time without having to actually discuss death. This also encouraged me to have conversations about Christ with my non-believing mother who had always struggled with my decision to follow Christ as an adult. My prayer for her is that as she witnesses the comfort I receive daily from this relationship with God, she will be moved to take the first step on her journey to faith.
One of my friends who is yet to believe asked me what it was like having a terminal illness while the rest of the world is hiding away from COVID-19.
'I think God knew I needed the quietness to write,' I'd replied, referring to the book I intend to leave behind for my goddaughters.
We went on to discuss the other things I was hoping to achieve on my Bucket List: to be on a podcast, to say thank you to 100 people who had influenced my life, to learn to make artisan bread (which I'd had huge fun failing at spectacularly with the help of a YouTube tutorial). Then she returned to my comment about God and the unexpected blessings Lockdown had bought despite the challenges.
'You know what Carrie, I almost agree with you,' she said, before sharing that she had been reading the daily Bible Study I had started emailing friends and family.
It's the seeds we plant with faith - at any stage in our lives - that matter most, because God can and will use them to plant roots in the hearts of those who seek Him.
Read more from Carrie-Jade Williams right here on the Woman Alive blog next Monday.
Missed the first part? Click here to read the beginning of her story.
Photo by VisionPic .net from Pexels