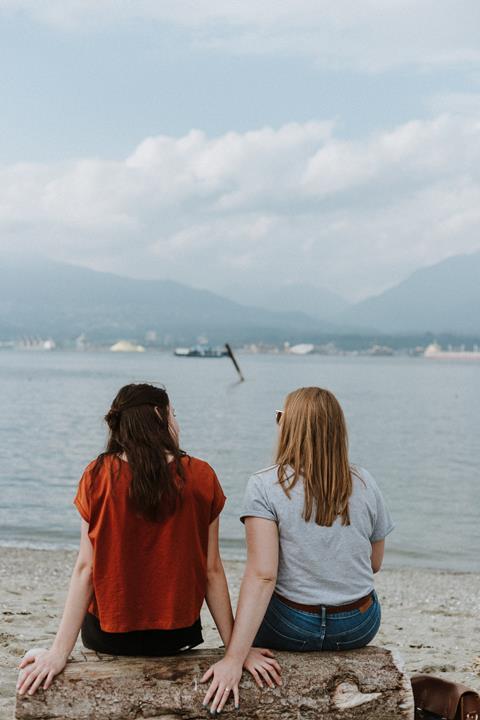 Ready with carrot cake and hot chocolate, I invited my closest friends for a Bible study at my home. After we'd worked our way through Corinthians, I broke the news: I was dying.
Somewhere in the silence I heard my friend state: "That doctor, he must be wrong."
I handed her the report containing copies of my MRI and other results, they like me needed to hold the truth in their hands to understand that there was no getting round this. While they read, I topped up our mugs with liquid chocolate that I wished could fix everything while they digested the news.
Four days later my church was filled with the Holy Spirit and a lot of women throwing their arms around me. Clearly the news had spread.
"Carrie, we are so sorry."
As much as I appreciated the outpouring of love, it was overwhelming because I simply didn't know what to say. Eventually, I escaped and cornered our Pastor, a man who carried hope and advice in equal measure.
"You need to talk to them," I said, nodding my head in the direction of the women dabbing tissues at their eyes.
"It's a shock," he said, surveying the scene.
"It is."
"They just love you Carrie."
He pulled two chairs out. Sat on one, while I took the other.
"Really, how are you doing?"
"I'm OK" I tell him. "My story is going to end one of two ways: Either God heals me or calls me home, and both are miracles."
#
When you get handed a terminal diagnosis no-one warns you that managing the emotional onslaught of others is a challenge few are equipped to handle, least of all you. Once the news was public knowledge, church fell into two camps. Those that would only talk about my diagnosis and those who avoided me.
Gradually I stopped being invited to Bible study groups because my presence upset the other women. It's easy to believe in God in the good times, right? But the promises over our lives as Christians are still true, no matter what the situation looks like.
My advice:
Let the person lead, being terminally ill is only one part of the person
They are living while facing death so embrace them, love them, create memories
Don't be frightened you'll say the wrong thing; really there isn't a right or wrong thing to say
Seek to create a church community that embraces the message of Romans 12:12 "Rejoice in hope, be patient in tribulation, be constant in prayer,"
#
One Friday evening while I waited for a friend, our Pastor's wife spotted me on a chair outside the meeting room.
"Are you not joining them?" she'd asked, sitting beside me.
"I think I upset them, just being there, so for the time being it's easier to wait outside."
She didn't rush to fill the silence between us.
But then she spoke: "You know what? I think next week we should both go. In this community no-one is on the outside looking in."
I nod.
"How are things going?" She looks at the journal on my lap which she knows contains the bullet point list of all the things I hope to achieve.
"Working through the Bucket List," I say.
"What's the current goal?"
"I'm going to write a book, to leave behind for family and friends," I say, slightly embarrassed to admit I'd signed up to a 'Write a Book in a Year' course. "A legacy."
As a Christian I inherited a legacy from Jesus, one which promises forgiveness, and an invitation into God's embrace that I neither earned nor deserved, but through his Grace am awarded without restriction. A terminal illness, though challenging, is in a way a blessing for me because I hate surprises. This means I've been given a warning that time may be shorter than I thought, so I get chance to choose what legacy I leave behind.
Read more from Carrie-Jade Williams here on the Woman Alive blog next Monday.
Missed the first part? Click here to read the first part of her story.
Photo by Priscilla Du Preez on Unsplash